So today, we will share about our famous Malaysia Food, Nasi Lemak. Ever since McDonald launched its Nasi Lemak Burger for over RM 15. We thought of why dont get a genuine nasi lemak with a fraction of its price. Here are our picks:
1) Nasi Lemak Tanglin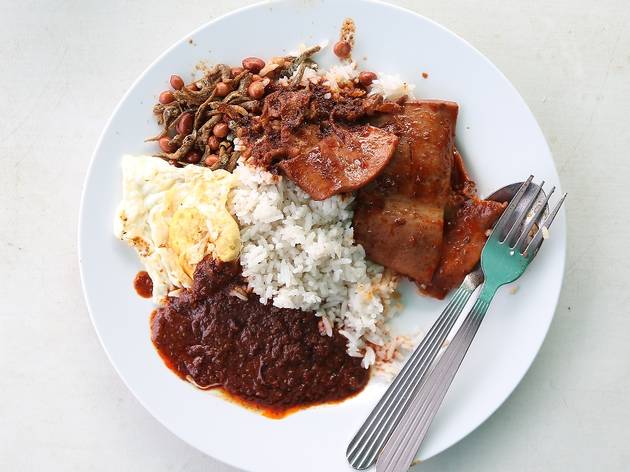 Located at Jalan Cenderasi, next to Butterfly Park KL. This store has been operating since 1940s own by a malay couple to preserve its authenticity. Serving may be small but its exotic side dishes will introduce you an authentic malay flavor.
Waze to "Nasi Lemak Tanglin" will bring you to the destination.
2) Nasi Lemak Mak Wanjor
Located in Kg Baru, Kuala Lumpur. This stall even though dont have an impressive exterior set up. But its the content that matters.
The nasi lemak which cost RM 3 at Mak Wanjo allowed you to taste the santan. The sambal not too thick or sweet, it blended just nice with the rice. Their beef rendang worth a try if you are a beef lover.
3) Chef Fauzey Nasi Lemak
Located at PJ Old Town, the famous specialty here is their nasi lemak goreng.
Apparently, Chef Fauzey whom is the owner of this stall used to be a chef in a 5 stars hotel 10 years ago, it is until he wanted to embark into his own venture then he decided to come out on his own to start this stall.
Another specialty that he has, is Nasi Lemak Kukus which worth a try too!
Waze for "Chef Fauzey Nasi Lemak Goreng" will bring you to the destination.
4) Warung Rindu
Another hidden gem located at Taman Bukit Angkasa. Waze "Warung Rindu". Warung Rindu has been around for 18 years, their nasi lemak kukus just nicely steamed, not too glutinous and not too ceroi. Strangely their nasi lemak didnt come along with fried ikan bilis but their sambal comes with chunk of it which offset it.
Their fried puny bird is something must try, especially when it is served hot. The moisture and fragrance is something you wont forget.
5) RA Nasi Lemak
Located at Asian Heritage Row. Waze "Asian Heritage Row" at Chow Kit.
The lauk offerings at RA Nasi Lemak are unique in its authentic kampung-style dishes, such as gulai lemak pisang and sambal tempeh ikan bilis. The lemak pisang almost tasted like vegetables (peel and all), while the tempeh had a salty spicy kick to it.
If you have missed our previous series can refer here for Part 1 and Part 2.